The story continues between Chantiers de l'Atlantique and IDEA
News
IDEA and Chantiers de l'Atlantique, a maritime construction (ships, marine energy) and fleet services company, have signed an agreement to continue their collaboration. With innovative and tailor-made solutions, IDEA is helping Chantiers de l'Atlantique move towards a 4.0 industry, making it possible to modernise and optimise warehousing and transport activities at one of the world's largest shipbuilding sites.
IDEA supports Chantiers de l'Atlantique's move towards the industry of tomorrow with 4.0 logistics
IDEA remains the key service provider for Chantiers de l'Atlantique in warehousing and transport activities. The new agreement is a break with the previous one. The objective is a digital and collaborative supply chain, reducing the duration and surface area of storage and meeting the needs of the maritime powerhouse in terms of agility and productivity.
The logistics specialist is providing a new organisation (new sites) and new processes based on the principles of lean manufacturing. In concrete terms, this means performing operations in a new general warehouse; centralising existing warehouses; providing digital management tools; focusing on continuous improvement; optimising and monitoring flows; and managing air, sea, and road transport flows (proximity to French and international co-producers).
JEAN-BAPTISTE LEMARECHAL, PROJECT ENGINEER – Groupe IDEA
"The roll-out of the new logistics organisation will be led by a dozen IDEA experts*. Why? Because it's important to ensure service continuity while training our field teams in new processes." 

*The IDEA task force: A complementary project team set up to support and train field teams in new processes and tools.
KEY STEPS
September 2020: Signing of the new collaboration
January 2021: Start of the new service
March 2021: Transfer to the new on-site general warehouse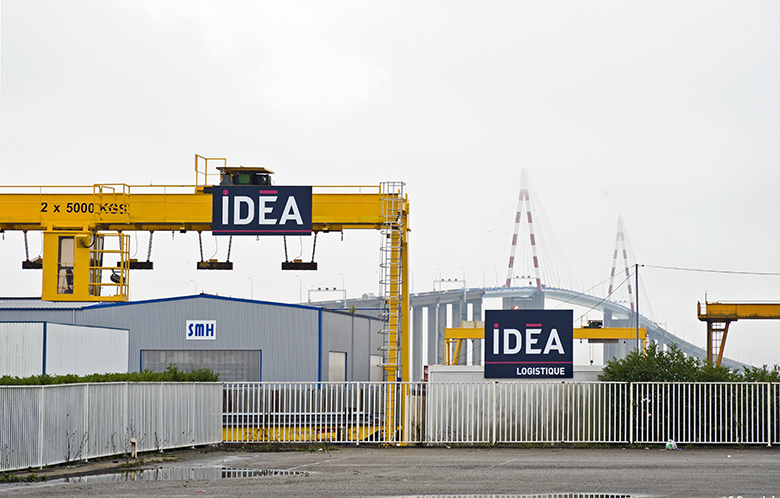 IDEA consolidates a historic market for the group
Originally established in Saint-Nazaire, IDEA has been able to forge ties over the years with players in the shipbuilding sector, such as Chantiers de l'Atlantique.
The partnership continues between Chantiers de l'Atlantique and IDEA. It all started in 1999, first on an IDEA platform, and later on site, since 2008. The scope developed in parallel: logistics (sections & hulls), transport, general warehousing. Chantiers de l'Atlantique entrusted all of its warehouse logistics to IDEA, which could integrate the wide range of components, trades and construction phases involved in shipbuilding, as well as electrical substations and offshore wind farms.
Today, the story continues between IDEA and the shipbuilding powerhouse with the digital management of warehousing and transport activities — a sign of trust and active collaboration.
NICOLAS DEROUAULT, DEPUTY MANAGING DIRECTOR – GROUPE IDEA
"The ties between IDEA and Chantiers de l'Atlantique are strong. IDEA's teams are committed to a permanent progress plan: significantly reducing transactions with no added value, constantly improving service rates, and pooling resources. Our close collaboration is an opportunity to get to know each other better and to work hand in hand. We are growing together. The group is developing in industrial logistics with this key player in shipbuilding, which is gaining agility with us." 

Over a century, the IDEA group has grown with the trust of its customers and partners. Through continuous improvement and innovation, IDEA ensures comprehensive and efficient management of supply chains and offers logistics services dedicated to shipbuilding (supply, storage, distribution, transport and handling). Signing with Chantiers de l'Atlantique confirms its expertise and know-how.