ENGIE BiOZ, IDEA and CARENE: together for a Biogas Plant
News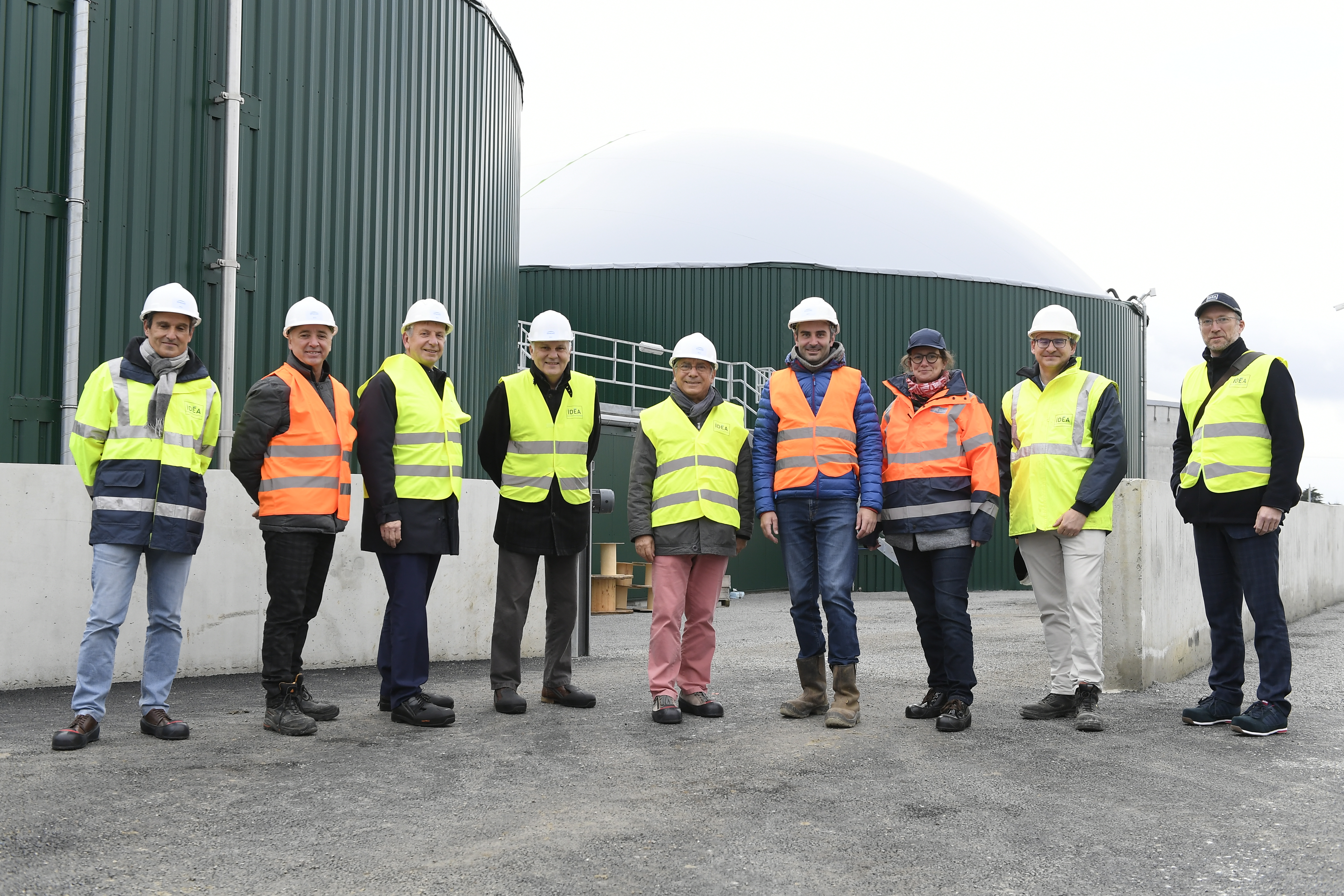 On December 2, 2021, ENGIE BiOZ signed the shareholders' agreement for the Centrale Biogaz de l'Estuaire (CBEST) (Estuary Biogas Plant) with IDEA Group and CARENE (combined district council of Saint-Nazaire). The agreement was signed in the presence of Clotaire Lefort, Managing Director of ENGIE BiOZ, Bruno Hug de Larauze, CEO of IDEA and David Samzun, President of CARENE, along with Claude Aufort, Vice President of "Climate - Air - Energy - Health". The methanisation unit, which will deliver its first m3 of biomethane to the GRDF gas distribution network in the spring of 2022, is already in line with local, regional and national objectives for reducing greenhouse gas emissions and building a greener energy mix.
CHARACTERISTICS OF THIS AGREEMENT
As part of its prospecting activity, ENGIE BiOZ approached local players, both private and public, including the IDEA Group and CARENE. The partners collaborated on a territorial project with a common ambition for energy transition, thus encouraging ENGIE BiOZ, IDEA and CARENE to work together on the Centrale Biogaz de l'Estuaire intended to produce biomethane for the territory. In December 2020, ENGIE BiOZ started the construction of the methanisation unit located in Montoir-de-Bretagne. Up to now the project was 100% owned by ENGIE BiOZ and, in accordance with the commitments made at the time of its development, the Centrale Biogaz de l'Estuaire is opening up the share capital before commissioning. The governance of this plant is thus shared between the three partners, i.e. 70% for ENGIE BiOZ, 25% for IDEA Group and 5% for CARENE.
CHARACTERISTICS OF THE PLANT
This methanisation unit is currently under construction and represents an investment of €9.2 M, of which € 500k is financed by the European Regional Development Fund (ERDF). Each year, the methanisation unit will provide more than 21 GWh of biomethane which will be directly injected into the natural gas distribution network. This quantity of biomethane corresponds to the annual gas consumption of approximately 1,900 households1. It will also reduce the emissions by more than 5,000 tonnes of CO2 each year.

A DEVELOPMENT TOOL FOR THE TERRITORY
Biomethane from the Centrale Biogaz de l'Estuaire is produced from organic by-products up to 77 tonnes per day. Therefore, the facility participates, within its capabilities, in the recovery of the organic waste produced on its territory and in the recycling of fertilising elements. In addition to energy production, it allows organic matter to be used as soil improver and crop fertiliser. This project is part of a circular economy logic and is carried out in partnership with key economic players, mainly 12 farms and the agri-food industry.
Each year, the Centrale Biogaz de l'Estuaire will provide renewable gas for 9% of the consumption of Montoir-de-Bretagne and 2% for CARENE territory.
LA CENTRALE BIOGAZ DE L'ESTUAIRE EN QUELQUES CHIFFRES :
28 000 tonnes/year of permitted organic substrates
Type de substrates : 30 % from agricultural sources (effluents, plant residues), 70 % from the food industry,
Capacity : 250 Nm³/h injected continuously into the gas distribution network operated by GRDF.
1an average 4-person household connected to the gas network consumes approximately 12 MWh/year.