Two robotisation projects being tested on the Aéroparc site in Nantes (44)
News
Robotisation is a major area of innovation which should allow to modernise IDEA's industrial tool. How ? By integrating new technologies into the processes and developing the skills of its teams to perform in the industry of the future. Focus on two projects recently tested on the Aéroparc pilot site (44). 
A cobot named Husky
Husky is the result of a partnership with E-Cobot, it assists operators to speed up the storage flow and avoid unnecessary traffic between receiving and picking areas. A double-deck conveyor accessory simultaneously and autonomously manages the flow of full and empty bins. A tracking mode is also considered, to assist the operators in their kitting missions.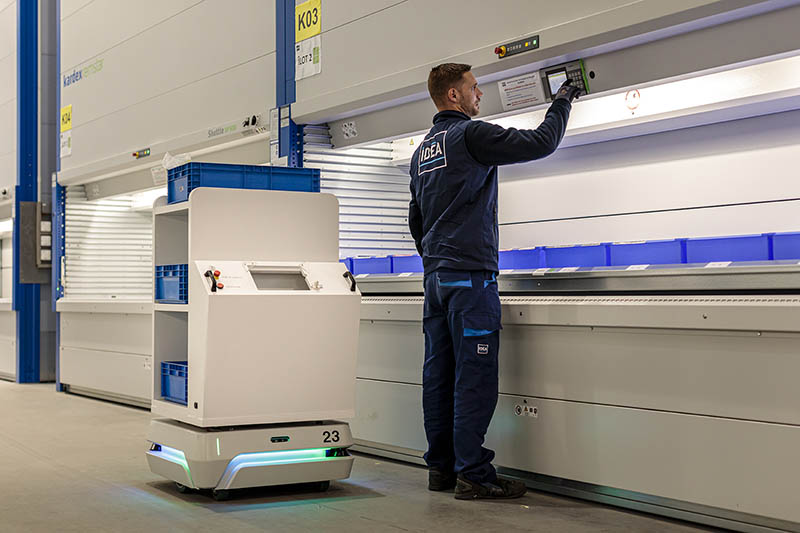 Indoor/Outdoor AGV
This AGV* operates on an open track to speed up inter-building flows and can be used indoors and outdoors. It picks, moves and sets down rolls and pallets up to one tonne, without operator assistance, respecting the traffic code and taking into account the risks associated to the environment. An innovation resulting from a partnership with ECA Group. 
*Automated Guided Vehicle
Improving industrial performance
These next-generation solutions increase productivity by focusing human skills on higher value-added tasks and on security of people and goods transported. Another positive point for the operators, relating to the ergonomics of their workstation: less handling and less time spent on the forklifts. Robotisation also offers a better overview of co-activity on site, mainly with the supervision tools. This is a major improvement driver for management of logistics flows, allowing IDEA to develop new just-in-time distribution models.