It's a wrap for Airbus A380 in Montoir-de-Bretagne

News
The premature end of the A380 announced by Airbus in 2019 is in sight. On 5 June 2020, the last superjumbo parts left the factory in Montoir-de-Bretagne for the Toulouse facility for final assembly.
Exceptional transport for two Airbus A380 sections
Two A380 sections, escorted by an exceptional convoy operated by IDEA from Airbus, left the factory for Montoir-de-Bretagne's Roulier port. 
The giant of the skies stands out for its size and also for its modes of transport. Its parts are far too large for air freight, so they will all be shipped via three different modes of transport from Airbus's European sites — first by road from Montoir-de-Bretagne, then by sea aboard the Ville de Bordeaux to reach the Gironde estuary, where they will be transferred to a barge to cross the Garonne river. The last stage will be an overnight 240-km journey across 21 municipalities at a maximum speed of 25 km/h, to reach the Blagnac plant near Toulouse, the final destination, around 25 June.
A chapter is closing for the biggest airliner in the world, which could carry up to 800 passengers and make non-stop New York–Hong Kong flights. Since the beginning of this industrial adventure in 2004, 251 pieces of equipment have been manufactured. The last will be delivered in 2021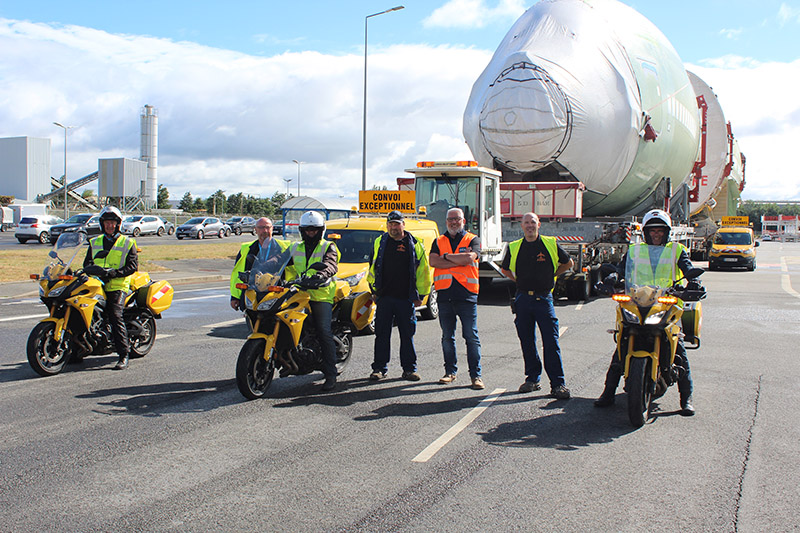 An exceptional convoy operated by IDEA since 2017
IDEA employees carried out this last exceptional transport of the A380, and not without some emotion. Since 2007, it had been the most remarkable and exceptional convoy provided by IDEA. It will remain a one-of-a-kind, and unforgettable, industrial experience.