Road transport
Choosing transport by IDEA means choosing safety, security and quality for your goods. IDEA offers road transport solutions from its central agency in Nantes for France or more widely for Europe, and locally via its Saint-Nazaire, Roissy and Roanne agencies.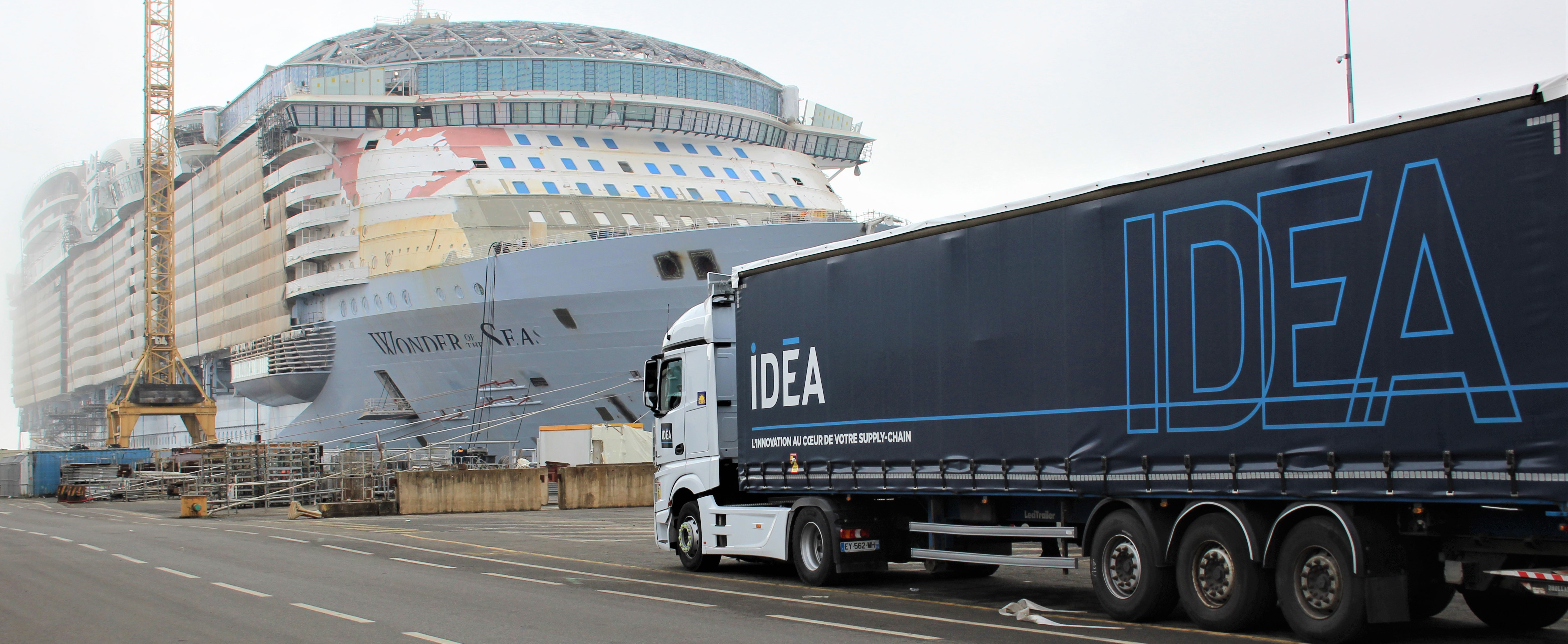 ​IDEA, also features a customised transport offer.
Optimise the management of goods flows
Guarantee the economic performance of the proposed transport solutions
Analyse flows, make adjustments, ensure control
Invent eco-transport solutions that integrate environmental performance criteria from the design stage
IDEA offers custom or standard solutions to organise the optimal transport plan suited to goods of every type: exceptional transport, dangerous materials transport, specific transport, eco-transport, conventional local and long-haul transport, and express transport.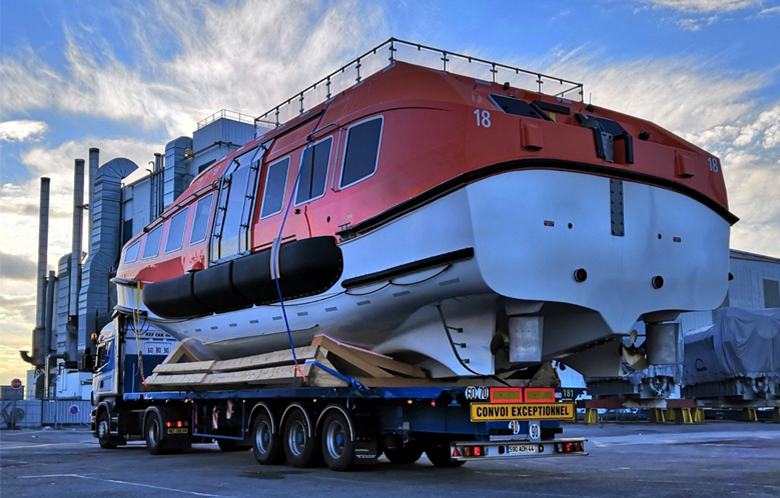 Road transport flow control
IDEA manages and coordinates all types of goods flows, whether this concerns aeronautics, naval or nuclear goods, joinery, motors, big bags, hazardous or non-hazardous waste, agri-food products or fragile goods.
Creating and managing transport flows
IDEA is the customer's single point of entry, from request to billing, guaranteeing the proper execution of the road transport under its care. IDEA coordinates flows on location to manage the supply of parts on-site, move these parts directly to the production line and fit out ships for the activity of Chantiers de l'Atlantique.
IDEA is committed to a low environmental impact road transport solution
IDEA Transport has signed a contract with French ecology transition agency, ADEME: "La Charte CO2: les transporteurs s'engagent" (CO2 Charter: carriers commit" to reduce greenhouse gas emissions. To this end, IDEA acts on the quality of its vehicle fleet and on eco-driving.

By optimising the coordination of your transport flows, IDEA commits to an awareness of environmental impact. IDEA will organise rounds to eliminate empty returns in the different transport means used, as is the case for its customer Maugin.
IDEA, road chartering
IDEA has a chartering section ready at any time to find the transport mode and/or carrier best suited to the needs of its customers, in compliance with lead times and at the best value for money. As such, IDEA interfaces between its customers and the carrier.
Conventional transport and exceptional transport
IDEA selects the most suitable transport mode for the goods entrusted.
Conventional transport
Conventional transport is designed for goods that are not transported in containers, bulk or rolling load. Discover the different conventional transport options offered by IDEA: pallet or standard equipment transport, transport on a standard flatbed or in a tautliner.
Exceptional transport: from organisation to execution
With recognised know-how, from project design to execution, IDEA supports its customers in organising their 1st, 2nd or 3rd category oversize exceptional transport.
When the load exceeds standard dimensions, IDEA offers to set up exceptional convoys for its customers with specific rules according to the category:
IDEA handles all the exceptional convoys of Airbus ex-works from Nantes and Saint-Nazaire, by road and/or barge.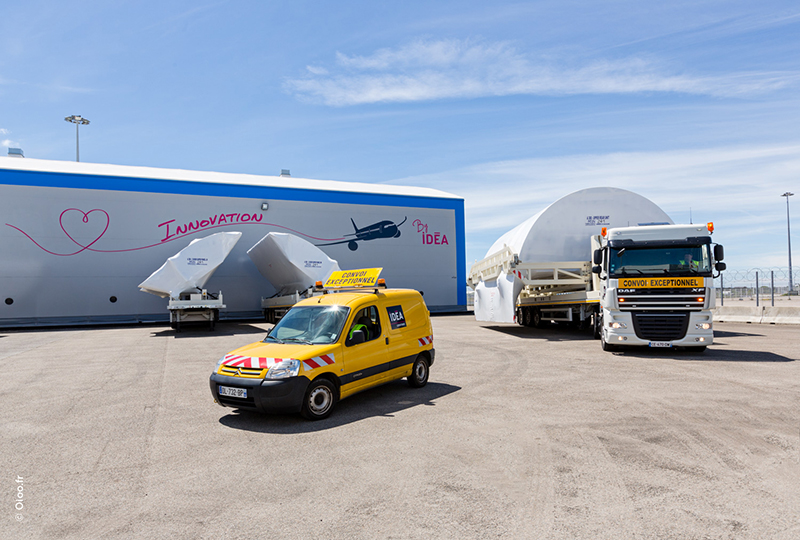 Customised road transport incorporating complete solutions
IDEA's Engineering Department develops solutions tailored to meet the specific transport requirements of its customers which can be incorporated into a comprehensive logistical offering (road transport, industrial packing, storage, etc.).

For example, IDEA can offer IDEAL transport, a solution adjusting transport services in real time, with billing according to the actual time of use and a permanent progress plan (flow analysis, adjustments, control).
Dangerous goods transport, including the handling of documents and protection of products.
Holding ADR certification (Accord for Dangerous goods by Road) and experienced in this area, IDEA organises and handles the transport of dangerous goods every day.
Road transport & handling: on-board lift trucks and cranes 
IDEA integrates a global solution for the autonomous delivery or collection of heavy, oversize and large size packages. 
Our trucks are adapted according to the specific activities (e.g. transport of wood, bulk materials, containers etc.). Depending on the load, we can attach a semi-trailer on the appropriate chassis (flat bed, container carrier etc.). An onboard crane can also be used to load and unload your goods.
Some of our trucks are equipped with on-board fork lift trucks for fully independent loading and unloading.
Delivery by road transport and product installation
From transport to equipment installation, IDEA teams can install the goods transported where the customer desires ("turnkey" solution). 
Vehicle leasing with truck driver
The industrial vehicle with truck driver leasing offer is the custom solution offering the benefits of a proprietary fleet sporting the customer's logo and freedom from the labour and material constraints of transport for improved optimisation of the customer's know-how. 
The IDEA driver becomes the customer's ambassador. For a more complete service offering, IDEA can customise its trailers. This is the case for the transport services set up for its customer Beillevaire. 
Design and investment in special machines and rolling stock
IDEA has the capacity to design, have produced and invest in specific rolling equipment with a concern for providing full support to customers.
To optimise the aeronautical parts transport operations for its customer Spirit, IDEA invested in a custom trailer extendable up to 29.5 m in length and 4.5 m in width.
optimise the management of goods flows
guarantee the economic performance of the proposed transport solutions
invent eco-transport solutions that integrate environmental performance criteria from the design stage
optimise the management of goods flows
guarantee the economic performance of the proposed transport solutions
invent eco-transport solutions that integrate environmental performance criteria from the design stage