Aeronautics – IDEA & Flying Whales look to the future
News
IDEA and FLYING WHALES which designed and manufactures the LCA60T — a revolutionary airship designed to transport heavy and bulky loads – have just signed a protocol for cooperation. IDEA won over Flying Whales with its tailor-made and innovative services and has become a key partner in terms of logistics and handling at the aircraft manufacturing site. The collaboration kicks off in 2021, starting with the construction of the 4.0 plant, and will further develop with the manufacture of Flying Whales airships. The first aircraft will be assembled in 2023 and take off in 2024.
From the 4.0 plant to the first airship...
The project with Flying Whales involves creating the world's first cargo airship. The LCA60T has non-standard dimensions (200-m long and 50-m in diameter) and a capacity of 60 tonnes. For comparison, the aircraft is the size of almost three A380s lined up end to end and loads 15 times more than the largest French helicopter, the Super Puma, which can carry 4 tonnes of cargo.
The LCA60T is designed to operate over distances of several hundred kilometres to access sites with limited transport infrastructure. Markets include hauling and transporting wood logs directly from the forest, transporting industrial parts in the energy sector (wind turbine blades, electricity pylons) and the aeronautical sector, and delivering building materials. There are plans to build 80 LCA60Ts on the French assembly line over the next decade, with an initial plant in Gironde, and later in China and in Quebec.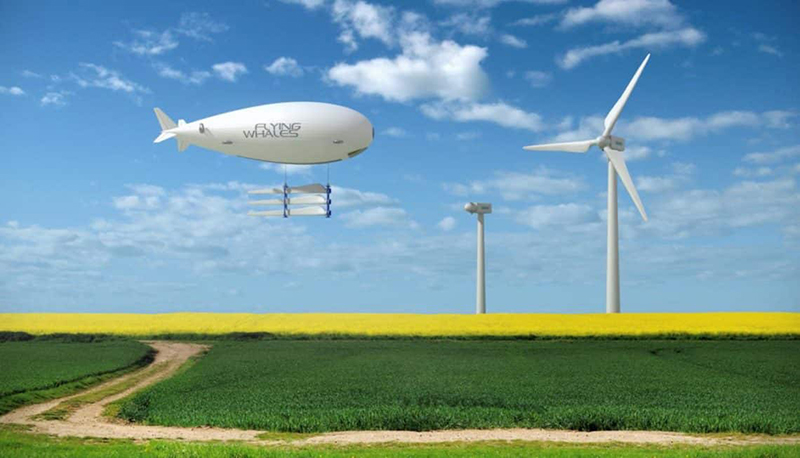 These impressive figures do not make it any less of an eco-responsible carrier — the LCA60T uses very little fuel per tonne transported and will be able to maintain hovering flight phases of several minutes for loading and unloading operations.
After a meeting at the Paris Air Show, followed by a call for tenders over several months, Flying Whales and IDEA decided to mobilise their teams to build a partnership for LCA60T programme logistics in France.
From the 4.0 plant to global plant logistics, Laruscade, in the Gironde department of France, is where everything will happen:
Joint definition of specifications to adapt infrastructure to logistic needs (adaptability to production, flow optimisation, etc.)
Flow monitoring and management, parts reception and storage, line side procurement, etc.
Support will combine the teams' expertise, digitisation and automation (goods-to-man robotic solutions) in order to meet the evolving needs of FLYING WHALES.
Sounanh Boriboun, Head of Supply Chain - FLYING WHALES
"We look forward to working with IDEA to prepare the supply chain on our assembly line in Laruscade. With proven experience in aeronautics, an ability to roll out innovative technological solutions and a focus on CSR*, IDEA has positioned itself as a strong partner to look to the future with."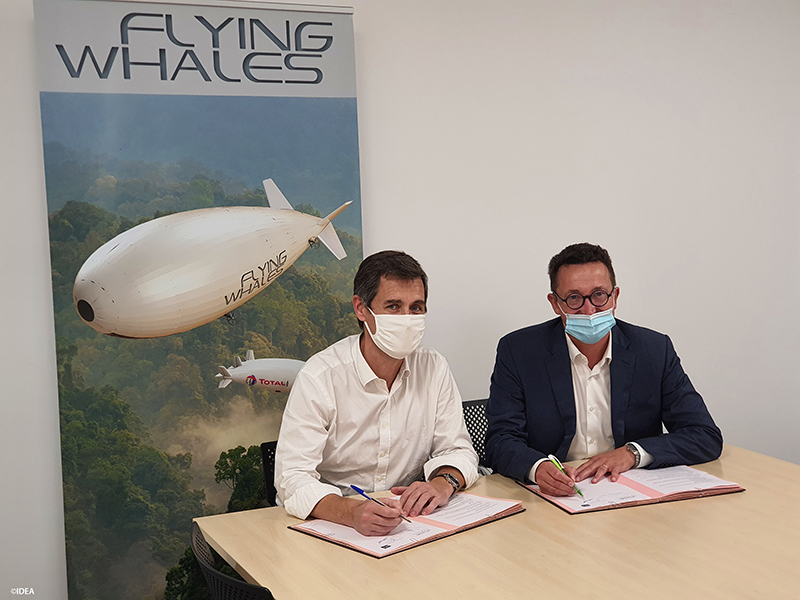 ...Tailor-made & scalable support by IDEA
Our promise — "Working for you from end to end" — is the signature of this upcoming collaboration. From the call for tenders emerged a relationship based on trust and support, key words for the logistics specialist.

Guillaume Dhellemmes, Co-Director, Aeronautics BU – Groupe IDEA
"Our experience with Daher for Airbus (similar service: from small parts to large and sensitive products), our commitment to CSR* and the professionalism of our teams have contributed positively to our becoming partners. I am proud to represent the values of our company which make this long-term partnership possible. IDEA innovates on a daily basis for the success of its customers." 
IDEA puts its agility and skills in industrial logistics to work for FLYING WHALES: engineering, digitisation of certain processes complementary to team expertise (about fifteen people will provide on-site services for the construction of the first aircraft).
With FLYING WHALES , IDEA shows its connection to the aeronautical sector and asserts itself as a 4.0 logistics specialist.
Avec FLYING WHALES, IDEA montre son attachement au secteur aéronautique et s'affirme en tant que logisticien 4.0.
Key steps
8 October 2020: Signing of the protocol for cooperation
2021: Filing of the building permit for the Laruscade plant
2022: Construction of the plant
2023: Assembly of the first LCA60T
* CSR: Corporate Social Responsibility