AIRBUS
Comprehensive management of warehouses and factory flows on location


Challenge for AIRBUS
Constantly improve the global supply chain. Provide, innovate and manage all flows entrusted to us.
Solution prototyping
Co-contracting and innovation with 3PL+
Long-term investments
Assistance in boosting productivity
Our services
IDEA Groupe carried out the complete engineering of this project in order to propose the most efficient and suitable solution for Airbus. 190 IDEA Groupe employees work for Airbus on a daily basis.
IDEA Groupe participates in the production of more than 600 aircraft per year on the various Airbus products representing 15 protocoled transports per day.
IDEA Groupe is developing new physical supply solutions in partnership with its customer Airbus. By calling on the collaboration of the various supply chain contributors, IDEA Groupe defines the logistics solution the most pertinent technically, economically, qualitatively and ergonomically.

Inventory management: raw materials, parts, aircraft, subassemblies
Line-side detail preparation from screws and bolts to complete sections
Materials handling of parts in the workshops
Packing for industrial transfer shipment of parts and elements
IDEA's advantages
Prototypage de solutions
Co traitance et Innovation avec 3PL+
Investissements long terme
Accompagnement des montées cadence
Testimonial
of a successful
collaboration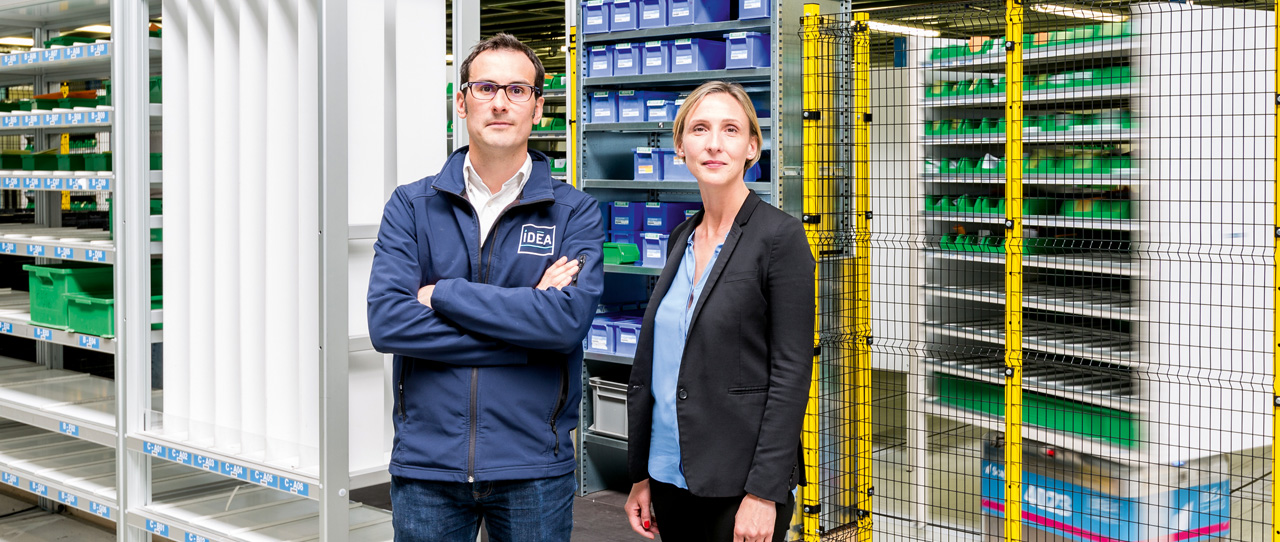 The deployment of the robotized warehouse on the AIRBUS site is the result of real collaborative work between the AIRBUS, KUEHNE + NAGEL and IDEA teams.
The feedback from our "Proof Of Concept" has enabled us to scale the solution to adapt it to AIRBUS constraints. We have thus added a set of solutions, including a laser pointing system, to assist the operator in achieving irreproachable reliability. Today, robots circulate continuously over a perimeter of 5,000 references. The challenges of this deployment are to achieve surface area and productivity gains of 30% by reaching a rate of 110 picks per hour.
The launch of a new aircraft is always a challenge for us. We must succeed in integrating more and more references on a surface constrained by the factory's ramp-up.
The experimentation of a robotized warehouse on an IDEA site convinced us of the positive impact of such an implementation at AIRBUS. Within a few months, the project was set up and validated. Deployment was then completed in record time. This jointly initiated approach based on the aeronautical "Goods to Man" is a concrete illustration of our reflections on the AIRBUS logistics of tomorrow.