BEILLEVAIRE
Logistics and transport solutions


Challenges for BEILLEVAIRE
Handle brand image during deliveries
Optimising transport to Rungis,
Ensuring proper product collection and facilitating deliveries in the city centre.
Our services
IDEA proposed a tailor-made logistics solution to improve the Beillevaire cheese dairy's rounds. The addition of refrigerated city trailers to existing semi-trailers facilitates the delivery of fresh products to stores and markets. This solution improves drivers' daily lives for increasingly restrictive urban deliveries (regulation, accessibility/traffic etc.).
IDEA also proposed the customisation of transport (vehicles and drivers) in the colours of the brand's visual identity. IDEA has once again demonstrated its ability to adapt to each situation and to be a driving force for innovative and versatile transport.
Organisation of dedicated rounds, collections and deliveries
Implementation of regional rounds with a refrigerated city trailer guaranteeing more manoeuvrability for hard-to-access locations (city centre, farm yard)
Installation of a shuttle to Rungis, refrigerated semi-trailer
Trailers in Beillevaire's colours
IDEA's advantages
Continual adaptation according to customer needs 
Drivers representing the brand for customers 
Trailers in Beillevaire's colours 
Creative solutions for innovative and versatile transport 
 
More collaborations
IDEA,
What is your requirement?
IDEA, our daily
commitments
CSR
Innovation
Consultancy
Quality control
Hello IDEA!
Contact an IDEA advisor
Do you want to know more about our comprehensive custom offers? Want to get involved with our project?
We call you back
IDEA Info
News, dossiers, events, find all the information about IDEA under this h
Our service offering
Working for you,
as and when you
need us or from
Our expertise
An industrial logistics service provider, IDEA Groupe manage
Business sectors
IDEA, a specific industrial supply chain service provider, operates main
Press section
Under this heading find press releases, photos and videos on IDEA.
Videos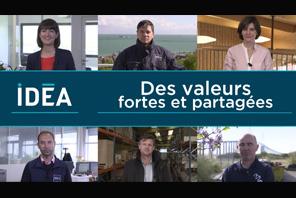 Strong and shared values
More videos
Logos