Logistics and Packing work hand in hand on transferring Stelia's CMA
News
Logistics service provider for Stelia for more than 10 years, IDEA was entrusted with a sizeable new challenge: to transfer the CMA (Stelia sheet metal warehouse) to another site, in a lead time of 2 weeks.
Large scale warehouse transfer
To meet Stelia's need to free up 800,000 square meters of space for the installation of machines, we handled the transfer of the warehouse of 110 drawers of metal sheets measuring up to 2.5 x 5.80 meters.
Synergy between Logistics and Packing
We handled the warehouse transfer from end to end, from the production of sheet handling frames to transit by truck.
It is with a sustained pace that IDEA's Packaging Division produced 4 different series of stacking frames to preserve the integrity of the products. The team designed 10 frames per day so that the 110 frames necessary to transfer the warehouse would be ready in time. Starting with a standard base, each frame was equipped with custom wedging tailored to each metal sheet.
To empty the drawers, IDEA's Logistics Division carefully handled each metal sheet with a sling to arrange it in the frames.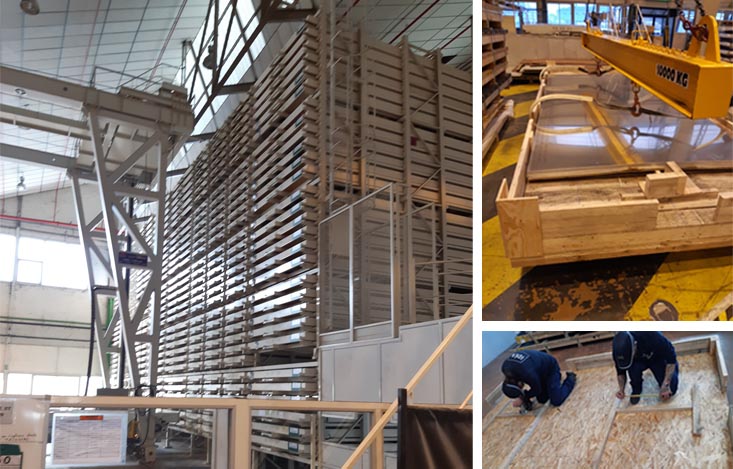 Tested logistical reactivity
To meet Stelia's requirement to shorten installation lead times, we adapted the logistics team's working hours. The warehouse was transferred in 8 working days instead of the initially planned 15.
We are delighted by the relationship of trust we have with Stelia. We continue to manage this metal sheet warehouse in just-in-time mode to provide the sheets to Production when necessary.