Talent incubator : a new pool of specific skills for companies in the Western region of France
News
How can we help companies recruit candidates who are prepared to learn a trade, obtain a diploma and share the company's values and methods in the long term? This was the premise for the creation of the talent incubator in 2021 by Michel Mézard.
An incubator to meet the recruitment needs of medium-sized businesses
The talent incubator in Montoir-de-Bretagne (44) is an independent structure that aims to becoming a company with a mission. It provides partner companies with a pool of operational skills adapted to their requirements.
"In addition to diplomas and skills, we mainly want to promote motivation, interpersonal skills and shared values. Many medium-sized businesses offer very specific job positions requiring an understanding that goes beyond professional skills and diplomas. We want to help these companies train candidates on their methods and retain talented employees with the required skills, at the beginning of the training course." says Michel Mézard, founder of the talent incubator.
Tailored programmes for successful corporate induction
The talent incubator designs specific career paths for all its future trainees and for each partner company. This project mainly concerns medium-sized businesses from different sectors, able to accommodate classes of 15 people.
Its role is to build in collaboration with the company and the referenced training centre, a training programme adapted to both the requirements of the final exam and the specific characteristics of the company.
In this context, the talent incubator constitutes a group of instructors within the company. It also provides support for these instructors and their supervisors in the field.
A pool of talent from all backgrounds
The incubator considers that there is talent everywhere. Among young people looking for career guidance, among internal employees who wish to develop their skills, and also among long term unemployed candidates.
"One of our main objectives is to bring out the potential in people wherever they are and to give the company the opportunity to share its passion and its values." comments Michel Mézard.
HOW DOES THE talent INCUBATOR ACTUALLY WORK ?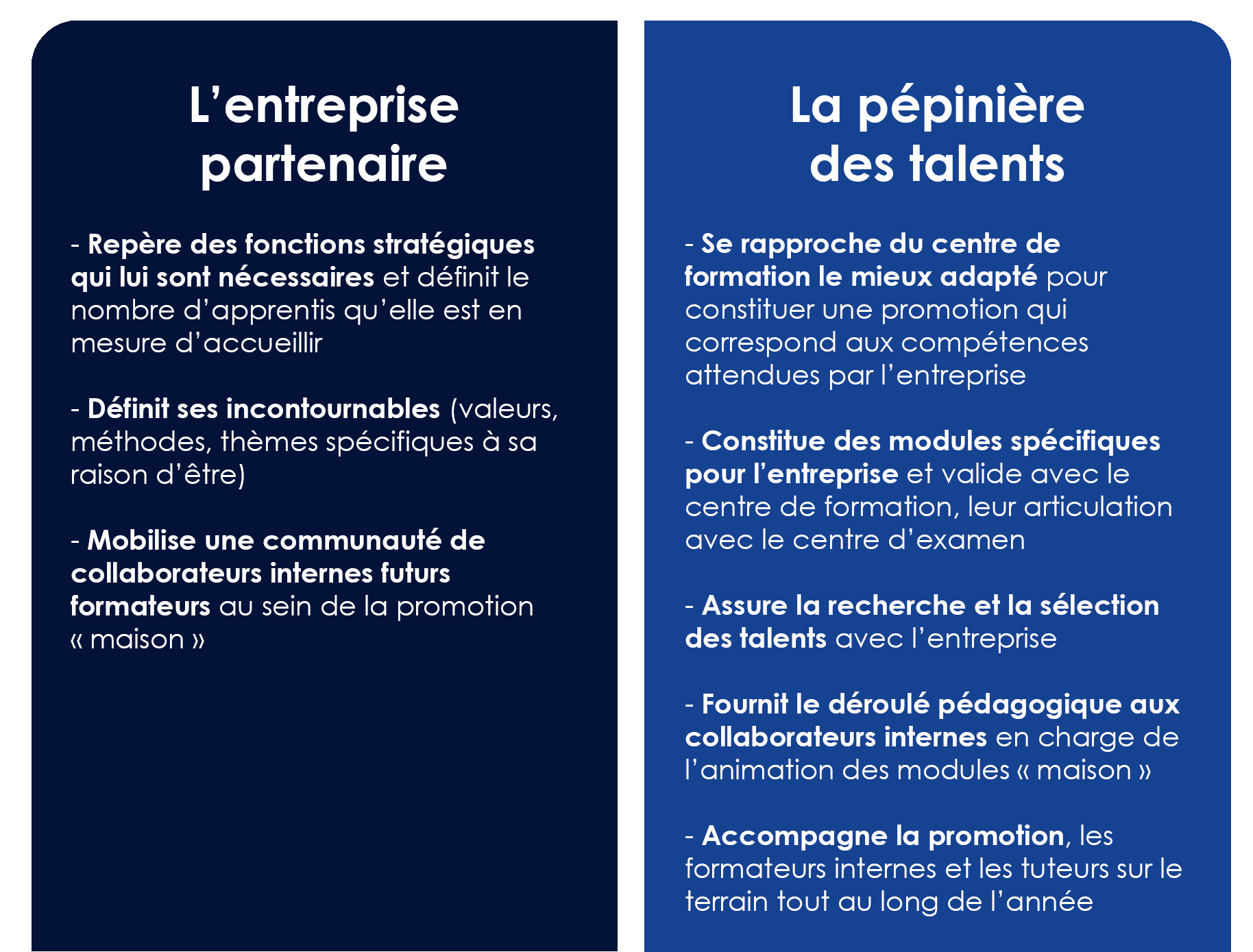 First deployment in Pays de la Loire
For 2022, the talent incubator has already formed two groups of trainees which will be integrated in medium-sized businesses in the Pays de la Loire region from September 2022. IDEA as a logistics specialist, is part of the project. By 2025, the incubator will expand its geographical scope and is counting on approximately ten medium-sized businesses in all sectors with classes of 15 trainees.
The IDEA group (44) promotes the talent incubator
IDEA as an independent industrial supply-chain contractor is totally in line with the philosophy of the talent incubator and is the first company in the Loire-Atlantique region to collaborate on this project. IDEA is present on 60 sites in France, and in some regions, has difficulty recruiting candidates who do not know the company. The principle of "in-house classes" is therefore perfectly suited to their need for specific recruitment campaigns and the logistics company has undertaken to integrate trainees from the incubator classes over the next three years.
From September 2022, IDEA will welcome the first class of 18 trainees with a Bac +2 degree (second year of higher education in France). They will be prepared, during 14 months, for a training course as Logistics Team Leaders, leading to an approved Bac+3 level (third year of higher education in France) qualification. Their training course will include :
400 hours provided by ISTELI Nantes (Institute of Higher Studies in Transport and International Logistics)
200 hours of training provided by the incubator with IDEA's instructors
In 2023, IDEA will integrate another class of 15 in the Logistics Operators training programme.
FOR Lionel Lemaréchal, DirectOr OF Human Resources AT IDEA
"We are convinced that the talent incubator is an adapted solution meeting our recruitment needs, especially in our very specific professions, practices and highly cooperative corporate culture. Company employees have volunteered to pass on their experience and this corporate culture. 
Moreover, the incubator is perfectly in line with our social commitments, i.e. support the training and integration of young people, encourage apprenticeships, integrate long-term unemployed candidates, while participating in the economic life of the territory."
For Michel Pernot OF ISTELI Nantes
"ISTELI is the reference school for higher education diplomas in transport and logistics, and is delighted to enter into this partnership with the talent incubator. ISTELI provides the professional skills required for these work-study qualifications and the incubator offers professional support to facilitate integration into the company. Therefore, we can guarantee a course that fully meets the expectations of the IDEA group."