IDEA and ECA GROUP present their first autonomous vehicle
News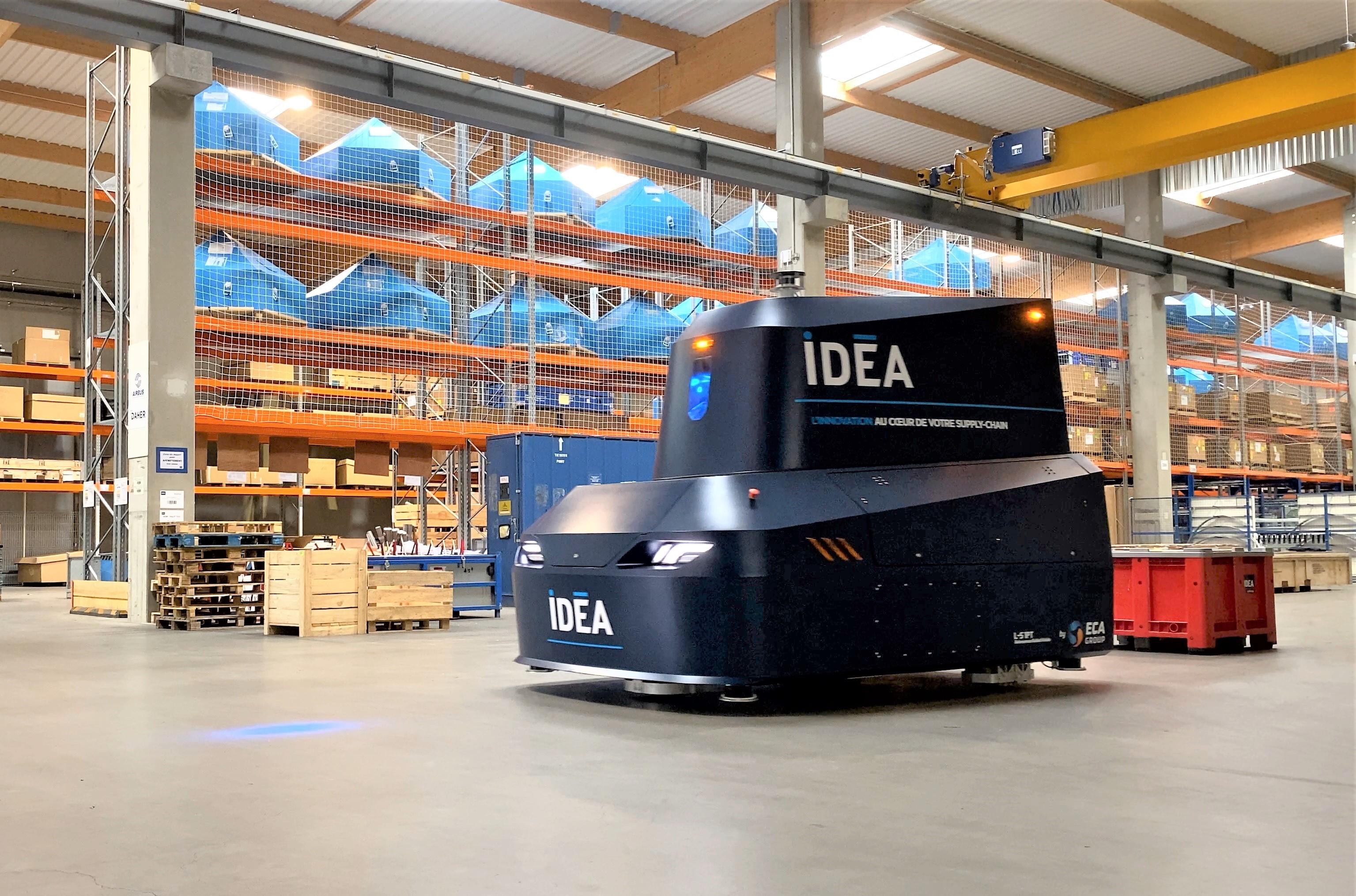 IDEA and robotics designer ECA GROUP present their indoor/outdoor AGV dedicated to accelerating logistics flows. This autonomous vehicle has been operational since June 2021 at an IDEA site in Nantes.
INNOVATION / AUTOMATION, THE WINNING COMBINATION OF THIS COLLABORATION
For IDEA, this autonomous vehicle is part of a strategic approach to innovation in the supply chain, to transform the organisation and management of industrial flows. With the introduction of this AGV, IDEA aims to accelerate logistics flows and enhance operator skills in the field (moving towards new jobs) by automating certain low value-added operations (transfers between production buildings and logistics buildings). ECA GROUP's extensive expertise in robotics and mastery of AGV-specific technology made it possible to meet all the requirements in the IDEA specifications. The result is a 100% autonomous, electric vehicle operating indoors and outdoors.
Nicolas Derouault explains : "This is a strategic project. From the very beginning, we relied on ECA GROUP's know-how as a lever for progress in the management of logistics flows. We were able to build a tailored technological solution together, perfectly adapted to our distribution models and "just-in-time" policy on our production lines. IDEA also stands out through co-venturing on innovative projects with partners in its territorial ecosystem."
FROM SPECIFICATIONS TO DELIVERY ON SITE
Supported by IDEA's business expertise, ECA GROUP will start the technical development of the autonomous solution for logistics sites in 2019. Considering the high level of maturity of the prototype, only a very short test phase was required, less than 3 months. Choosing the right partner minimised the risks and accelerated the deployment phase, allowing for delivery of the first mass-produced AGV in less than two years.
A FULLY AUTONOMOUS VEHICLE ON AN INDUSTRIAL SITE
IDEA's indoor/outdoor AGV is 100% electric. This AGV operates on an open track to speed up inter-building flows and can be used indoors and outdoors. It picks, moves and sets down rolls and pallets up to one tonne, without operator assistance, respecting the traffic code, taking into account the risks associated to the environment, and guaranteeing safety for pedestrians, cyclists, cars and trucks. Its control interface is simple to use and easy to learn for IDEA operators.
NEW SKILLS FOR THE LOGISTICS PROFESSIONS
AGVs assist operators on a daily basis by performing the low value-added and accident-prone operations.
Technology is leading to a change in the logistics operators' tasks. They can focus on picking, handling urgent matters in the shops, improve monitoring of stock levels, etc. and provide a more responsive customer service. New jobs are emerging along with increased automation, including autonomous vehicle fleet managers, with in-house training programmes.
AUTONOMOUS MOBILITY IN INDUSTRIAL ENVIRONMENTS, A SOLUTION FOR THE FUTURE 
The close collaboration and success of this project with ECA GROUP, has enabled IDEA to pursue ambitious goals to enhance logistical performance through automation and to meet the needs of flow optimisation in an industrial environment. In addition to a first series of AGVs of this type, IlDEA plans to deploy a range of autonomous solutions for logistics operations with ECA GROUP. It will be adapted to the different industrial contexts of their customers and will be able to address issues in various areas from robotic warehouses to heavy AGVs (up to 15/20 tonnes for example).
Gilbert Rosso, Deputy Managing Director of ECA GROUP adds:
"ECA GROUP is proud to collaborate with IDEA on innovating projects for the logistics industry with our range of indoor and outdoor autonomous mobile robots (AMR) for the industrial sector. As the first logistics customer to test our robots, IDEA was able to validate the performance and reliability of our products with this first vehicle, operating autonomously without requiring modifications of the existing infrastructure. I am personally very excited about our continued collaboration with IDEA, we are already working on other applications for our logistics process robots."