Chantiers de l'Atlantique – IDEA, the collaboration continues with the cabins department
News
Chantiers de l'Atlantique designs and entirely builds the largest cruise ships in the world. The shipbuilder has renewed its confidence in IDEA for the transport of the cabins to be installed on all the ships built at Saint-Nazaire. IDEA secures and digitises the logistical flow of cabins for one of the largest shipbuilding companies in the world. 
IDEA secures operations by digitising the logistical flow of cabins all the way to their delivery to the dock.
Chantiers de l'Atlantique creates all the cabins of the ships it builds. Whether intended for passengers or crew, the differently sized and designed cabins are pre-assembled and stored in Brais – the industrial park of Saint-Nazaire – until their delivery to the dock of the ship for which they are intended.
Since 1 January 2021, after a second three-month call for tenders, the IDEA group continues its collaboration with Chantiers de l'Atlantique regarding cabin mobility. More precisely, this means securing the transport between their production site and the shipbuilding site, with daily dock-side deliveries.
THE SERVICE CONCERNED 
All the cabins of all the cruise ships built
Or roughly 3000 cabins per ship
Average size of cabins: 7 x 2.5 m
Daily rotations of 4 exceptional convoys
Transporting 20 to 30 cabins/day
Just-in-time
Dockside delivery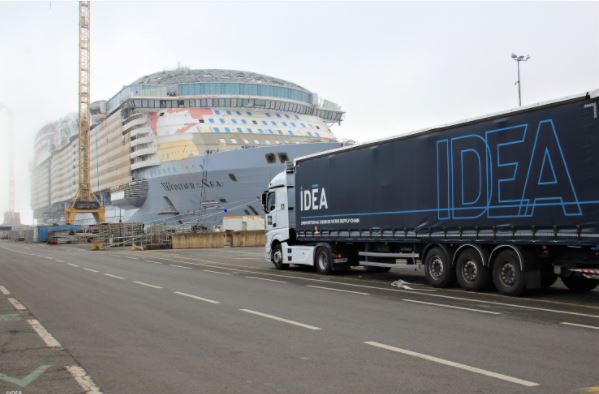 PASCAL NOBLET, CUSTOMER FLOWS LOGISTICS & SUPPLY CHAIN AFTER SALES SERVICE TECHNICIAN- CHANTIERS DE L'ATLANTIQUE.
"There many trades working together in a shipyard. A delay can be disruptive for the building of a ship. Although there are daily adjustments, punctuality in delivery is essential. We liked the custom and digitised offering of IDEA. We didn't hesitate very long: we are satisfied with the quality of service of the group and appreciate the professional attitude, know-how and responsiveness of the teams. They understand embarkation problems and show flexibility by quickly providing reliable means for improvement".
IDEA's strength: good knowledge of the needs of Chantiers de l'Atlantique
To reinforce its global logistical offering for this service and ensure better cabin protection, IDEA also supports Chantiers de l'Atlantique in reusable packaging, ergonomics and safety projects.

BENOIT COUTANCEAU, DIRECTOR OF OPERATIONS – MOBILITY Business Unit
"As a service provider, and to support our customer over time, we do our utmost to provide new solutions and innovate daily to generate value: digitisation of operations to boost performance, thinking about sustainable packaging in a virtuous approach etc. Our teams have mastered the service and transport planning: Chantiers de l'Atlantique recognizes our expertise and capitalises on our quality of service to pursue our collaboration".
Chantiers de l'Atlantique and IDEA are tied in a strong partnership. The two Loire-based companies have been working together for over 20 years: logistics (sections & hulls) and general warehouse, scopes also recently renewed.
BENOIT COUTANCEAU, CONCLUDES:
"This renewed collaboration is a strong show of confidence. Chantiers de l'Atlantique shows that IDEA knows how to support it in the development of its business, its operational challenges, of safety... This is what we want for each one of our partner customers".