New Collaboration with Corse Composites Aéronautiques
News
At the 2019 International Paris Air Show we announced a new collaboration with Corse Composites Aéronautiques. The specialist in complex composite parts has trusted us since May 1 at our Nantes (44) and Toulouse (31) sites. Thanks to our global and innovative offer, we convinced this Airbus Tier 1 supplier. 
Corse Composites Aéronautiques
Since May 1, the specialist in complex composite parts for aeronautics – including nose landing gear hatches, Karmans/Fairings wing and fuselage elements, and barrel-type revolution parts for engine nacelles – trusts us to accompany projects A320neo, A330neo, and Airbus A350. It is a partnership that will last for many years. A dozen of our employees deploy their knowledge in Nantes and Toulouse, more precisely Plaisance-du-Touch.  Project engineering, operations logistics (reception, handling, inventory) quality control, site safety guarantee – just as many activities provided for Corse Composites Aéronautiques.
Laurent Rinieri
Logistics manager – Corse Composites Aéronautiques
"Recognized in the aviation industry, having already collaborated with Airbus on-site in Nantes and being situated in an airport zone, we have been convinced by IDEA's presentations in lieu of our collaboration zith Airbus for the programs A320neo, A330neo, and A350. The group proposed to us a customized service to have assembly-line hubs. IDEA experts have laid out two zones of several hundred square meters. The first is in Plaisance-du-Touch for the Karmans and landing gear traps before the A350 program. The other is in Nantes for the A320neo qnd A330neo air intakes. Furthermore, IDEA collaborators have been trained in our SAP software to manage materials optimally. "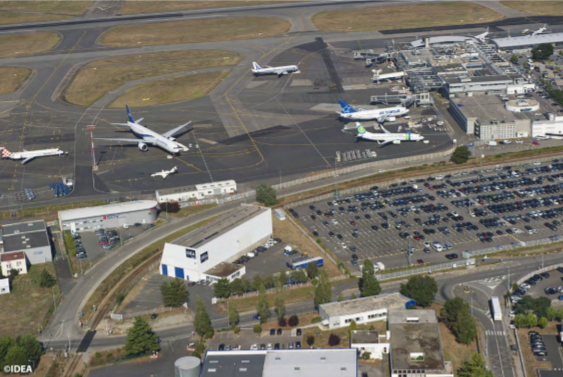 IDEA: PRIVELEGED PARTNER OF THE AEROSPACE INDUSTRY
For more than 25 years, we have collaborated with manufacturers in the aerospace industry. The group has become a key player in the market, with trust gained from companies such as Airbus, Daher, Stelia, and Spirit. Constantly innovating, we regularly question ourselves in order to offer global services in logistics, packaging, and transport – from product design to operational implementation, on their site or ours. Concerned with the industry of the future, we are a logistics 4.0 company that proposes solutions while integrating technology. Motivated in the evolution of this field, we assure the transition of current expertise and the deployment of digital solutions for services such as the following: Manufacturer Hub, SmartPack, Pack and Strat (scanning a part for 3D wedging to fit perfectly into another piece), and the monitoring of data.