IDEA déploie sa solution innovante
de Magasin Automatisé Modulaire chez AIRBUS
Actualités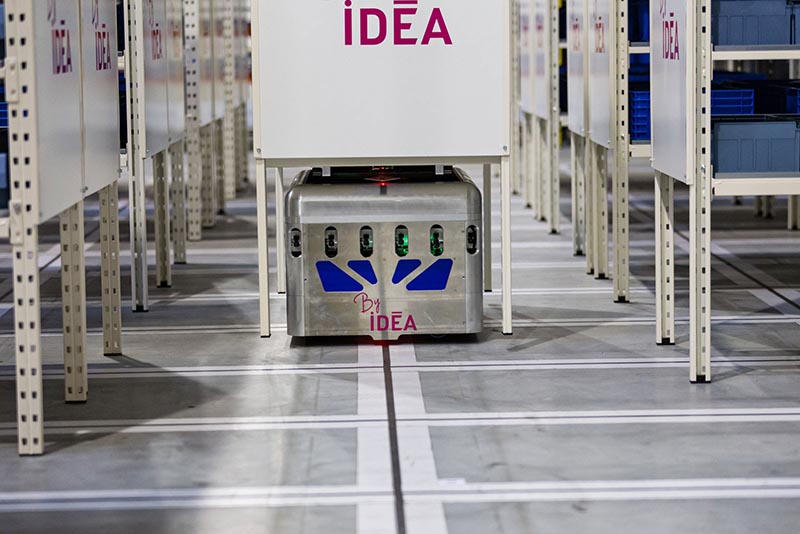 Quelques jours seulement après avoir dévoilé les résultats concluants d'une expérimentation de magasin robotisé dans l'univers de l'industrie, IDEA, prestataire indépendant de supply-chain industrielle, annonce l'intégration de la solution chez AIRBUS à Nantes.
Parfaite illustration de l'application des principes du Goods to Man, il s'agit du premier déploiement par IDEA de la solution de Magasin Automatisé Modulaire Scallog pour un client in situ.

Cette 2ème étape nourrit les démarches en cours de co-construction autour du Goods to Man aéronautique avec Kuehne + Nagel (Lead Logistics Provider d'Airbus).
IDEA, intégrateur opérateur de la solution de magasin robotisé chez AIRBUS
Implanté sur le site de fabrication, le magasin automatisé modulaire concerne l'activité des petites pièces pour l'ensemble de la production de l'usine AIRBUS de Nantes, soit un périmètre de 5000 références. IDEA a la responsabilité de l'ensemble des flux, de l'acheminement en zone robotisée jusqu'à la livraison de ces pièces sur la ligne de fabrication.

Pleinement convaincus par les résultats du proof of concept mené par IDEA sur la plateforme logistique de proximité Aéroparc (44), les dirigeants d'AIRBUS sont assurés de l'incidence positive de l'implantation du magasin automatisé modulaire.

Les enjeux du déploiement : intégrer davantage de références sur une surface contrainte par la montée en cadence de la production de l'A350 et obtenir un gain de productivité de 30% en atteignant une cadence de 110 picks à l'heure.

Le déploiement du magasin automatisé modulaire chez AIRBUS s'accompagne de la mise en oeuvre d'un système de « pick-to-light » : un pointeur lumineux désigne à l'opérateur l'emplacement où prélever la pièce sur l'étagère.

Déployée in situ par IDEA à compter du mois de septembre 2016 - après une reprise du génie civil programmée sur l'été, unique investissement induit pour AIRBUS -, la solution de magasin robotisé sera pleinement opérationnelle dès le mois de novembre.