[COVID-19]: IDEA is adapting and committing
News
Logistics and transport professionals are confronted with the effects of the pandemic. Adaptability, prevention and employee protection are the by-words for IDEA in this context. An independent industrial supply-chain service provider, IDEA is reorganising, straddling partial or sustained activity, ensuring the respect of its employees' health while best meeting the needs of its customers.
IDEA ADAPTS AND PRIORITISES THE HEALTH OF ITS EMPLOYEES
"Faced with this unprecedented crisis, IDEA is adapting day to day. Since the beginning we have experienced a diversity of situations in our activities as regards the needs of our customer and governmental directives. We are doing our utmost, with personnel representatives, to comply in the safest way for our employees" explains Bruno Hug de Larauze, CEO of IDEA
As a service company, maintaining our business depends on execution possibilities at the customers' and the availability of employees in this particular context.
With 54 sites in France, IDEA adapts the working conditions of its employees when activity is maintained. Our priority is preserving their health. A purchasing group for the continuous procurement of health products was set up, even if shortages and sourcing problems continue to exist. On IDEA's own sites, protective measures and instructions, according to governmental recommendations, have been implemented (hand washing, hand sanitizer, minimum distance of 1 meter between each person and above all attention paid to symptoms). When IDEA operates on location, the organisation is approved jointly with the customer to maintain partial activity if it has not been stopped.
Employees and the company adapt day to day and on a case by case basis to handle people at risk, unplanned child minding or even reduced or stopped activity at certain customers'. With 80% field teams, many employees have had to stop work. As such most employees are working part-time. Whenever possible, IDEA has encouraged working from home.
It is in this framework that IDEA employees have shown their support by helping out their overworked co-workers or volunteering to participate in solidarity initiatives.
IDEA WORKS ON A CASE BY CASE BASIS FOR ITS CUSTOMERS AND IS INVOLVED IN SOLIDARY ACTIONS
"The coexistence of governmental messages of confinement for all, and the incentive to resume or continue business to save companies and jobs is sometimes hard to comprehend and may seem paradoxical. This causes anxiety among our employees and at our customers', themselves facing the same unknowns and constraints to ensure their continued activity" adds Nicolas Derouault, Deputy General Director of IDEA.
With customers working in the aeronautics, energy, defence, construction and agri-food sectors, continued activity occurs on a case by case basis. Between sites shut down (defence, naval, telecommunications) and others under "full steam" (bulk agri-food), there are those that continue at a slowed-down pace (aeronautics, energy).
"Our role as a service company is to reassure our employees, our customers and our suppliers. We adjust our activities as best possible and are preparing for afterwards while preserving the health of our employees but also their skills" continues Nicolas Derouault.
Alongside these reorganisations, the Group's logistical competencies are mobilized to serve solidarity initiatives. Employees who wish – and can – volunteer. The Group's values are more than ever necessary for the common good.
"We are really proud of the solidarity that is being put in place in the Group. Every day, we are delighted to discover new collective or personal initiatives. Our employees are also, in their own way, heroes!" concludes Nicolas Derouault.
FOCUS ON 3 COLLECTIVE SOLIDARY ACTIONS
IDEA AT THE HEART OF THE PAYS DE LA LOIRE ARS SYSTEM 
From the beginning of the lockdown, the Pays de la Loire Region called upon IDEA for two missions.
A dozen drivers ensured the logistics of collecting protective equipment in middle and upper secondary schools in the region to provide them to the ARS (Regional Health Agency) who redistributed them to healthcare professionals. They also distributed 280,000 masks delivered by airlift for an order of 1.5 million placed by the Region.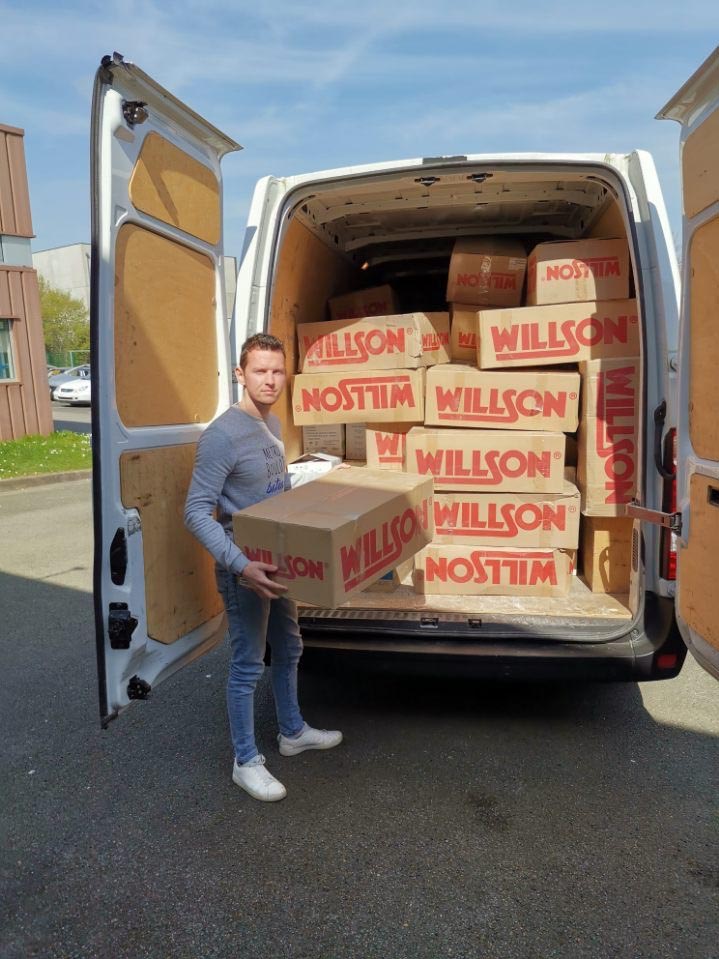 At the same time, the proper supply of PPE (personal protective equipment) is a major challenge to be met over time. For the last two weeks, on the recommendation of the Regional administration, the ARS has called on IDEA.
The coordination of supply flows (knowledge of existing volumes, integration of distribution volumes, simplification of flows etc.) ensured the delivery of 2.2 million PPE to 2,800 healthcare institutions equitably between départements, sizes of institutions and health activities
IDEA ALONGSIDE CONSTRUCTION INDUSTRY PLAYERS FOR A FIELD HOSPITAL PROJECT
Several players* of the construction, materials and logistics sectors united to respond to two call for projects: the first initiated by the Ministry of the Armies, the second by the Ministry of Solidarity and Health.
The proposal of the group of industrialists? Build units made of reusable wooden modules comprising roughly 15 intensive care units and the related premises for the rapid deployment of field hospitals near to already existing centres in France and in Europe.
The group is currently actively working toward reducing the deployment lead times of its solution. It is at the disposal of the public authorities to act according to need.
*Saint-Gobain, Nacarat, Spie Batignolles, SNERCT, Compagnie de Construction, Douillard Construction, La Maison Abordable, Socotec, AIA, Dhomino, IDEA, EXSO, Cabinet GB2A, Leco and Batimat.
IDEA ON THE ROAD FOR THE COMMUNITY OF "MAKERS" OF THE ST-NAZAIRE METROPOLITAN AREA
La Carène and BlueLab are also counting on the competencies of the IDEA teams. They coordinate the collection of face shields produced via 3D printing by a community of Saint Nazaire "makers", some of which Group employees.
Approved by healthcare personnel, these face shields supplement the FFP2 masks. They are provided to the sector's healthcare institutions.