Smart Pack

A connected packaging offer by IDEA
What is Smart Pack?
The SmartPack solution aims to connect your packaged cargo and track its conditions of transportation while connecting to our SmartPack secured website. SmartPack registrers and transmits regularly the GPS position, shocks, temperature and humidity. All data are stamped with dates ands hours. Smart Pack works in 250 countries.
Thank you for testing the prototype with us.
We appreciate any comments or suggestions by email: smartpack@groupe-idea.com
How does it work?
We start by preparing the delivery for you: we choose the parameters that will be tracked based on the sensitivity of your cargo and the transportation modes. The set up will determine the frequency of measurement, the data transmission frequency and the warning level for shocks, temperature and humidity. We will also give you login and password to access our secured website in order to track your cargo.
During the packaging phase, the SmartPack object will be fixed to the cargo.
During the transportation phase, the SmartPack will transmit the datas to our servers by GMS depending on the selected frequency. Without GMS connection available, the SmartPack will store the data transmit it once it finds signal.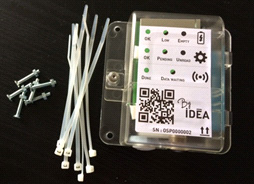 How to attach the object on the cargo ?
The SmartPack must be firmly fixed on the cargo to properly register the shocks. SmartPack can be fixed using screws and washers or by using Rislan collars (Colson collars) on the casing fixing holes. Double-faced adhesive can be added as necessary.
How to know if the object works well?
The device you have is already configured
In order to check the device's proper functioning, press and hold the push-button for 2 seconds and check that the three lights shine one after the other (blinking or not).

If one or more LEDs do not light up, or if all the LEDs light up at the same time: please call Ghislain Baudichaud +33 7 85 20 42 71 before sending the cargo.
How can I access the data recorded by the device?
You are testing a prototype:
For this test, you will receive at the end of the expedtion a complete report with the collected data. 
The objective of our offer is for you to access the travel data on this platform as soon as it is collected by the device. Personal and secured acces will be provided to navigate the plateform.
How do I return the object after use?
Before removing the SmartPack, please note the date and hour that you received the cargo.
Unscrew the casing or cut the plastic collar.
Use the prepaid FedEx return envelope, wich can be found near the cargo's case. Put the case with the filled return form in the envelope. If there is no label on the envelope, please contact us and we will send you one by email.
Follow then the FedEx return instructions. You can ask for a collection by FedEx, drop it at a Fedex agency, or contact us to book a collection.
Contact
E-mail: smartpack@groupe-idea.com 
Phone: Ghislain Baudichaud at +33 7 85 20 42 71 
Feel free to contact us with any questions